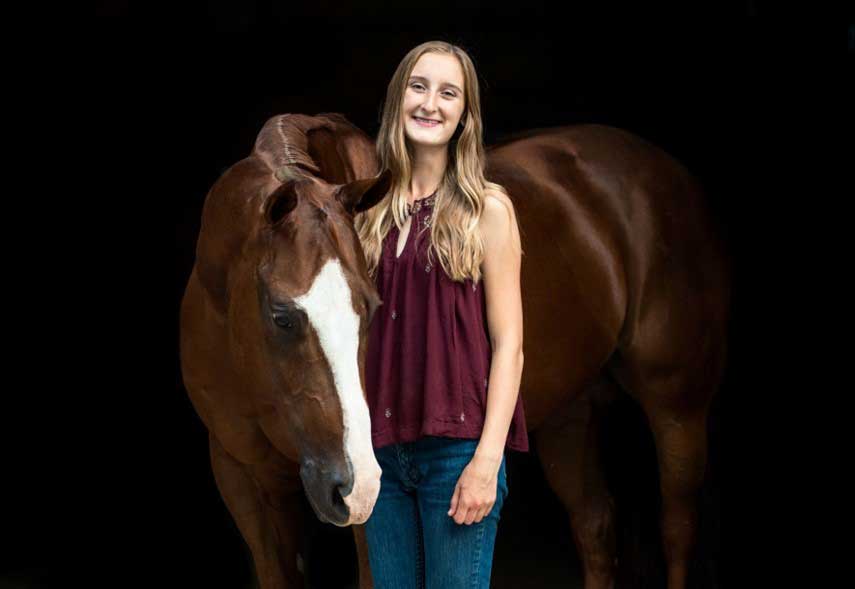 BCQHA is very pleased to Spotlight our own Ellie Gerbrandt of Roberts Creek. This 18 year old has had a very accomplished equine career in her young life highlighted by achieving her goal of attending the 2020 Youth World Cup. She placed Top 30 in Trail and a Finalist in Horsemanship and Showmanship in some extremely large classes. At the same time she was also a NSBA Bronze World Champion in 14-18 Hunt Seat Equitation and NSBA 8th in 14-18 Horsemanship. She was also a 2018 and 2020 Team Canada member for the AQHA Youth World Cup.
Ellie's Quarter Horse Achievements have been very impressive including Top Ten at the 2016 and 2018 All American Quarter Horse Congress in Hunt Seat Equitation, as well as Top Ten in Showmanship in 2018. In 2017 she earned All Around Hi-Point Youth at the AQHA Novice Youth Championships West in Las Vegas. In 2019, 2018 and 2017 she has earned numerous Championships, Hi-Points and Reserve Hi-Point in California, Oregon, Arizona, Washington and British Columbia. She has also been a BCQHA and LMQHA Year End Youth Hi-Point winner. In 2019 Ellie was Canadian Quarter Horse Youth of the year runner up.
While focusing on her Equine activities she also spent many years in Dance as well as playing Soccer and Volleyball including making it to the Provincial Volleyball Championships in 2016. That's not all; she participated and volunteered in Vaulting as well as a junior volunteer for the Sunshine Coast Healthcare Auxiliary. Ellie managed to achieve all this while maintaining over a 90% grade average in school. Recently, Ellie was recruited by the prestigious Texas A&M NCAA Division 1 Equestrian team and has given her verbal commitment to ride for the team starting in 2021.
None of this could have been accomplished without the love and support of her mother Amanda and grandparents Barb and John Hopkins lon time supporters of LMQHA and BCQHA. We are extremely proud of this young British Columbian and know that this is only the beginning of a long and successful future for Ellie.