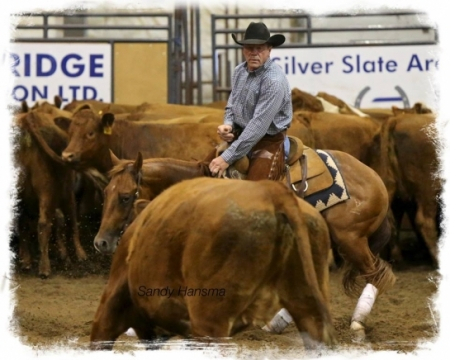 by Stacy Pigott
There are cutting horse trainers, and there are veterinarians. Each usually relies on the other to stay in business. But then there is Denton Moffat, DVM, who runs a thriving equine veterinary practice by day and is a cutting horse trainer at night.
"I've just always worked my practice until five or six in the evening, and then work my horses after that, and I still do that to this day," said Moffat, who lives in Armstrong, British Columbia, Canada. "This year, all summer there were 24 horses in training. Right now, after our small futurities are done, there are about 16-18 here. It's a lot, but I keep good help. They do have to work kind of oddball hours. My lopers come in at two in the afternoon and go home at 11 at night."
Despite the odd hours, Moffat has managed to make both of his careers successful. He is sought after as an equine veterinarian, and this year met the requirements for induction into the NCHA Riders Hall of Fame.
"(My veterinary practice) was security. I was cutting because it was a passion, and it just developed," said Moffat.
Having grown up on a small farm where his father kept approximately 100 head of beef cattle, Moffat was horseback at an early age. He broke all of the colts, and eventually tried his hand in the rodeo arena as a bronc rider and calf roper.
His decision to attend veterinary school came later in life than for most, and he was 30 years old when he added DVM to his name in 1976. Shortly thereafter, he attended a snaffle bit clinic with the legendary Bobby Ingersoll. Rather than foster an interest in working cow horse, however, the clinic opened Moffat's eyes to the sport of cutting.
"That clinic was my first introduction to cutting, and I got hooked from there," said Moffat, who decided to turn his snaffle bit horse, Dee Bars Motion, into a cutter. "That snaffle bit horse turned into a pretty nice cutting horse at that time."
At that time, the Canadian Futurity was a 4-year-old event, but Dee Bars Motion was only 3.
"He was a 3-year-old, but he was all I had, and they didn't have any rules against going in with a 3-year old. So I took him in with all of the other 4-year-olds," explained Moffat. "Gary Bellenfant was riding a horse, and Dave Batty, and I ended up third against those guys with a year younger horse. That built my confidence that I could maybe train some young horses. It was just a third place, not a win, that made me think that I really wanted to do this."
Moffat began accepting outside horses, including Docs Lena Doc and War O Lena. Owned by Mike Pugh, Docs Lena Doc won six Canadian Open Championships and made the NCHA World Finals in Houston, Texas, twice.
"He was a big asset. He was just a terrific athlete," Moffat said of Docs Lena Doc. "Then I had a horse by the name of War O Lena and won the Reno Futurity and the California Futurity with him, and I think one or two of the small futurities up here in Canada. He was a nice horse that helped me want to try to go south more."
Moffat did his share of traveling across the border, taking Smart Little Player to win the 1999 Gold Coast Winter Championship, and Catting to win the 2003 Pacific Coast CHA Gelding Stakes.
"I haven't had any really big wins, I just keep getting little pieces here and there," Moffat says of his career.
Nowadays, however, he stays closer to home in Canada, where he counts several cutters among his veterinary clients. Far from being a conflict of interests, working on the horses he may someday be competing against has
caused more than a few good-natured comments to head his way.
"Yeah, I get that all the time," Moffat said of the ribbing he sometimes takes from fellow cutters.
In a way, the teasing Moffat endures is a sign of respect from his fellow cutters. It is their way of acknowledging his expertise as a veterinarian and his skill in the cutting pen, which has resulted in a spot in the Riders Hall of Fame. ★