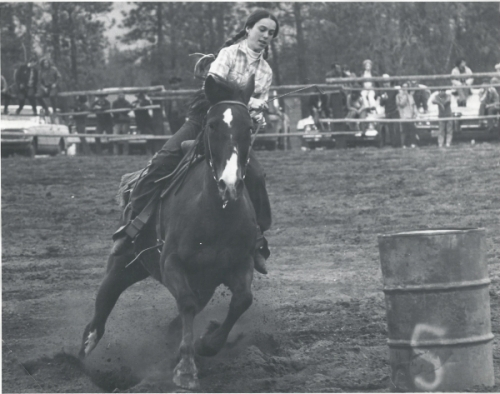 On October 07, 2016, Beverley Mulford passed away at the young age of 59 after a 20 year battle with Muscular Dystrophy. Anyone that knew Bev understood that her two most important things in her life were family and horses.
At a young age she would spend time at her Uncle's ranch helping out and hoping to ride one of his horses.
In her teenage years, she got her very own horse. Her parents would drop her off in the morning and she would ride all day. She competed at local barrel races and at the Pine Tree Riding Club.
When she got her drivers license, she was able to drive to Barnhartvale to ride and did so as much as she was able to. The horse that she had at that time was a roan gelding called Sammy, which Bev said was that horse of a lifetime for her. Bev, Sammy and her Dalmation dog, Donna, were always exploring the trails around Barnhartvale. As a team they competed at Pine Tree Riding club and received may year end and high point awards.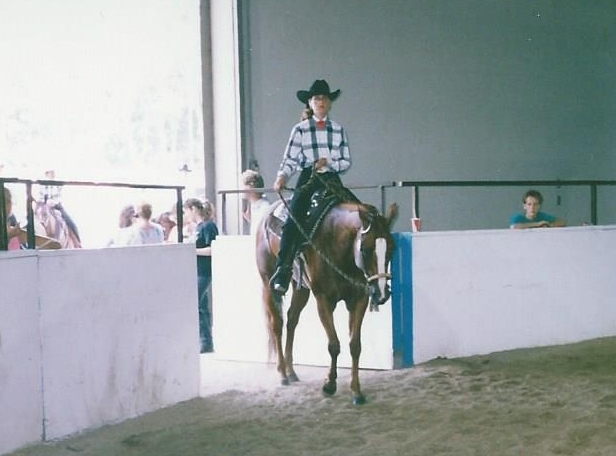 In the mid 70s, Bev ventured into the Quarter horse world and bought an ex race horse gelding that was big and pretty but not a keeper.
In 1980, Bev and Allen were married and built their home on the piece of property in Barnhartvale. This made it so easy for Bev to ride every day. Allen had shown horses when he was younger, so it became a family affair.
Bev showed a mare called Lotta Times that Art Graves trained for her. She did well with this mare but always striving for better. She traded Lotta Times to Hans Hansma for a mare called Sheza Good Deal. Bev showed this mare to an Amateur AQHA Championship, Superior Halter and numerous BCQHA High Points.
Again always striving for better, her next project was a mare called Miss Kiloberry, which with the help of Mark and Nikki DeForest, Bev achieved another Amateur AQHA Championship, a Superior Western Pleasure award and numerous BCQHA High Points.
The next chapter in Bevs life was the arrival of daughter Sarah followed a few years later Katrina. It was about that time that Bev was diagnosed with Muscular Dystrophy and she was finding riding starting to get difficult.
Again, Bevs determination to go to horse shows came through, and with Sarah helping, Bev helped condition and show several Halter horses that were multiple Futurity Winners and point earners in BC and Washington.
About the time that Katrina started to ride, Bev was no longer able to ride, but was able to coach her and make sure she was dressed professionally with just the right amount of make up on.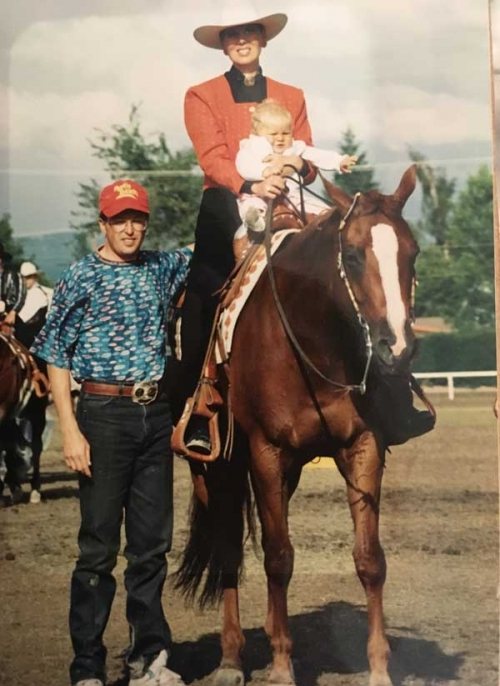 Bev was able to see both of her daughters grow up to be successful young women the Quarter Horse World as well as in life. Bev was able to see both girls graduate this year, Sarah from the BCIT Financial Program and Katrina from Stenberg College as a Pharmacy Technician.
Bev was always admired for her professionalism, honesty, grace and most of all her determination.
She will be missed by many, especially her family, Allen, Sarah, Katrina, Mother, Father and Brother.